This is our first ranking release for Track and Field program in Canada; we are ranking the university based on teams performance in the year 2014/15, 2015/16, 2016/17,  Data gathered from USports, Trackie,
1. Windsor Lancers
The Lancers are the most successful track and field program in Canadian Inter-University Sport history
Led by head coach Dennis Fairall, the Lancers have captured 25 Canadian University cross country and track and field championships (20 track and field, five cross country), in addition to the 46 Ontario University Championships (39 track and field, seven cross country). In his 29 seasons at the helm of the program, Coach Fairall has been honored 65 times as either the CIS national coach of the year or the OUA Provincial Coach of the Year in Track and Field and Cross Country.
As of 2015–16, the Lancers have won 23 of the past 25 OUA provincial championships in men's track and field, and 17 of the past 25 OUA provincial championships in women's track and field
The Lancer track and field program has featured some high-profile athletes over the years including national standouts O'Brian Gibbons, Andrea Steen, Mike Nolan, Ryan McKenzie and most recently Melissa Bishop, who is still coached by Dennis Fairall, won a gold medal at the 2015 Pan Am Games in Toronto, Ontario. Bishop also set a new Canadian record in the 800 meters in the summer of 2015 while also capturing a silver medal at the 2015 IAAF World Championships in Beijing, China.
OUA Champion:  23
National Champion:  10
2. Guelph Gryphons
The University of Guelph is the current National Champion, but they have well known it Track and Field programs and that they have nice training facility; they have a pretty strong team in the OUA (Ontario University Athletics). They are the team to keep an eye on.
The men's team has made significant improvements over the years they have finished second in 2015 and 2016 seasons at OUA  Championship and at the  National Championship. As of this season, they have  stacked up on sprinters
OUA Champion:  2
National Champion:  4
3. Toronto Varsity Blues
The University of Toronto is supposed to be the track powerhouse in Canada but Unfortunately not because the team did not win any national championship or OUA championship in the past three years.
I would have expected more from them because they are well funded they have the states of the art training facilities indoor and outdoor
However, the Program have produced well-known name track stars that currently represent Canada on the world stage. Micha Powell, Andrea Seccafien, Gabriela Stafford.
OUA Champion:  45
National Champion:  7
4. York Lions
York University was national champion back in  2013/14 season but since then have not managed to win another championship, but they were the top 5  finishers In 2015, 2016 seasons at national.
It is  unclear what happened this year because the team is not in the top 10 at nationals and  They also finished 6th at OUW championship that is unusual for them, keep an eye  out for them, they might make  big league  come back and surprised everyone in 2018 Season
OUA Champion:  0
National Champion:  3
5. Western Mustangs
The University of Western Ontario track program is still growing, but the program only has won one national championship back In 2011/12 Season and only has two OUA championship from 1952 and 1998 but the indoor training facility is in the middle of Ice rink which is a bit odd, and the surface needs major upgrades.
However, the Outdoor track is excellent; The team is pretty young at the moment, keep your eyes on them. The Program has produced an Olympian and Pan American Champion Damian Warner
OUA Champion:  2
National Champion:  1
6. Laval Rouge et Or
Université Laval is a French university in Quebec City has never won national championship yet but has 13 RSEQ championship, but the team has the capacity to grow in the near future
RSEQ Champion: 13
National Champion:  0
7. Victoria Vikes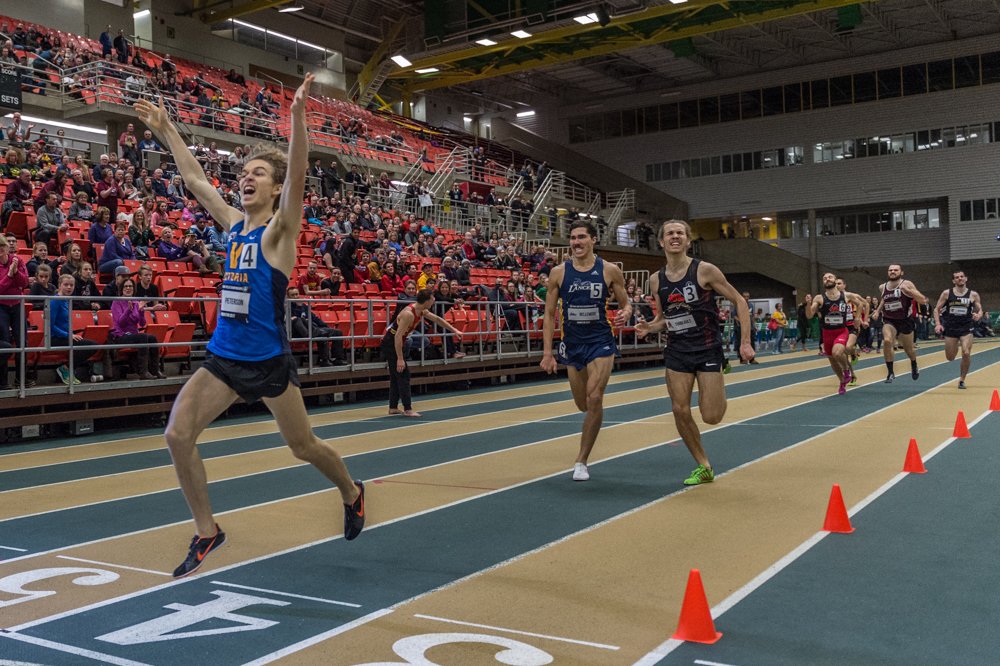 University of Victoria ​another big name for track in Canada but the has not won Canada West champions or neither national championship they have an appealing training facility, but they have pretty strong individual athletes
Canada West Champion: 0
National Champions: 0
8.Trinity Spartans
Trinity Western University has made consistent improvements over the years but this year 2017  the team has finally won Canada West championship after many years of waiting. However, still yet to win a national championship in the near future. Since 2014 they are heavily recruiting.
Canada West Champion: 1
National champion: 0*
9. Lethbridge Pronghorns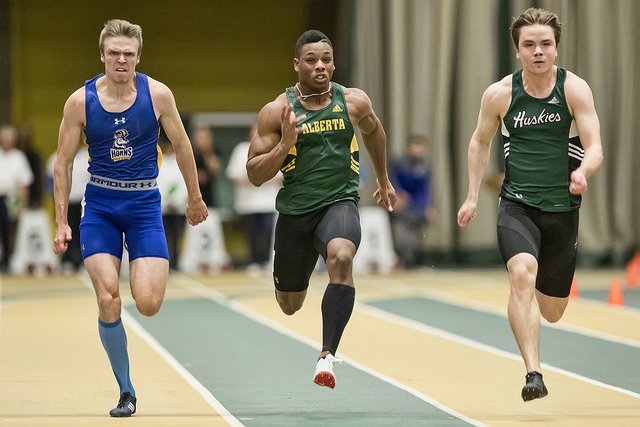 University of Lethbridge track program is tiny but has consistently finished in top 10 in the past two years. However, the program is  yet to win Canada West Championships and National Championships
Canada West Championship: 0
**National Championship: 0
10. Alberta Golden Bear
​ The University of Alberta has not won National Championship in 17 years the last time the team won national was in 2000 at the University of Sherbrooke.  I would have expected more from them because they are well funded, and  they have the states of the art training facilities in  the country
Canada West Champion: 6
National Champion: 1