Las Vegas, Nevada, is a world-renowned destination for its bright lights, exciting casinos and extravagant entertainment. But many don't realize that Las Vegas is also home to some of the best restaurants in the country.
With a wide range of cuisines and styles to choose from, visitors will be sure to find something they love while exploring all that Las Vegas has to offer. From quick snacks to high-end dining experiences, there are plenty of options for anyone looking to dine out in Sin City.
Whether you're visiting on business or pleasure, great restaurants all over town cater to any budget or taste. From delicious steakhouses with mouthwatering cuts of meat cooked perfectly every time to great sushi bars with fresh seafood flown in daily – Las Vegas has it all!
Spago Restaurant
Spago, located in the Bellagio Hotel Las Vegas, is one of the most beloved restaurants in Sin City. The eatery offers a unique menu of classic Italian-American dishes and some modern interpretations crafted by world-renowned Chef Wolfgang Puck.
Renovated in 2018, Spago features beautiful new interiors with a sleek and contemporary design that complements its relaxed atmosphere.
Mon Ami Gabi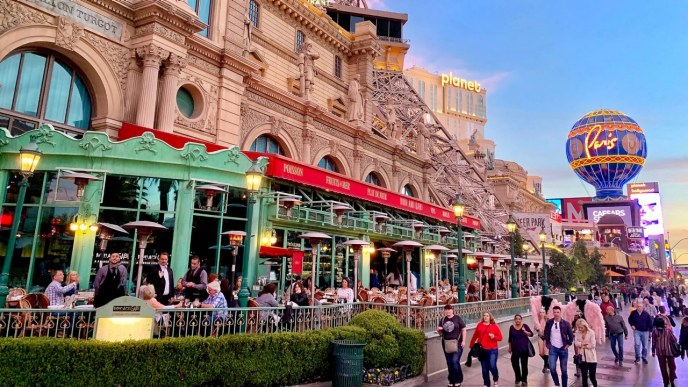 Mon Ami Gabi, located in the Paris Las Vegas Hotel, is one of the best restaurants in Las Vegas. With a classic French bistro atmosphere and an award-winning wine list, this restaurant offers something for everyone.
From their signature Escargot to their decadent desserts, diners can enjoy a memorable meal at Mon Ami Gabi.
The restaurant is known for its warm and inviting atmosphere that makes guests feel like they are dining on the str ts of Paris. With cozy booths and intimate tables, there's sure to be something that fits any occasion or group size.
Bouchon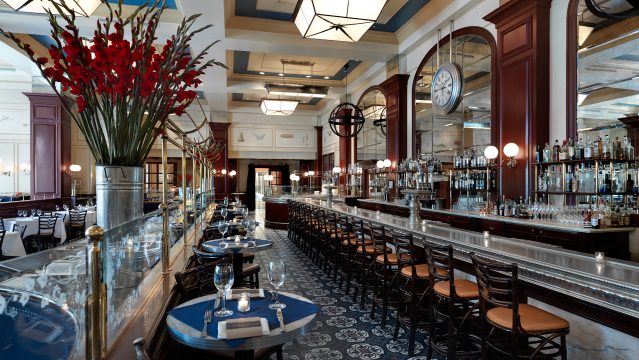 Bouchon, located in the Venetian, has been a favourite among locals and tourists since it opened in 2004. This French-inspired restaurant by renowned chef Thomas Keller offers an excellent variety of seasonal dishes sure to please any palate.
The atmosphere of Bouchon is warm and inviting, with rustic decor that adds to its charm. Guests can enjoy an outdoor patio dining experience or be seated inside the cozy dining room overlooking a vibrant open kitchen.
The menu includes classic French favourites such as steak frites, bouillabaisse and crispy duck confit, as well as delicious desserts like crème brulée and tarte tatin.
Giada
Giada is an award-winning Italian restaurant in the Cromwell Hotel and Casino on the Las Vegas Strip. Named after celebrity chef Giada De Laurentiis, this chic and modern eatery has established itself as one of the best Italian restaurants in all of Las Vegas.
With its stunning decor, romantic ambiance, and fresh, flavorful dishes inspired by Chef Giada's family recipes, it's no wonder why it has become a favourite dining spot among locals and visitors alike.
So whether you're looking for a romantic date night experience or want to relax with friends over delicious Italian food, Giada is sure to exceed your expectations.
Nobu Caesars Palace Las Vegas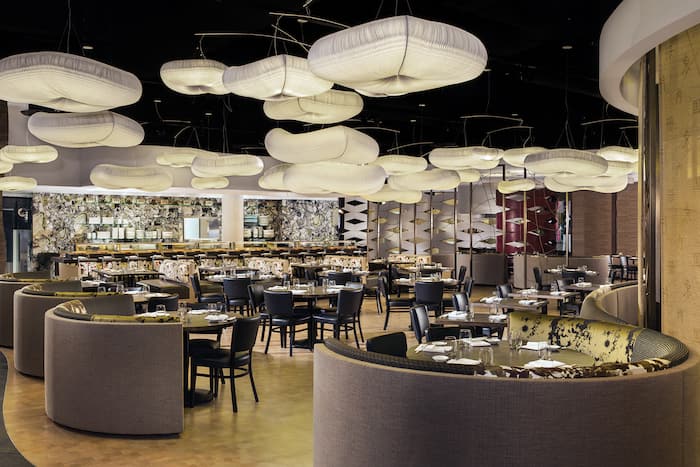 Nobu, located in the Nobu Hotel at Caesars Palace, is one of the top restaurants in Las Vegas. This world-renowned restaurant brings together the traditional styles of Japanese cooking and blends them with South American flavours to create a unique dining experience.
Diners can indulge in delicious dishes such as black cod miso, yellowtail sashimi with jalapeño and Wagyu beef tacos for an unforgettable meal.
The atmosphere at Nobu is also something to savour. The elegant decor provides a sense of sophistication, while the open kitchen allows guests to watch their food being prepared.
STK Steakhouse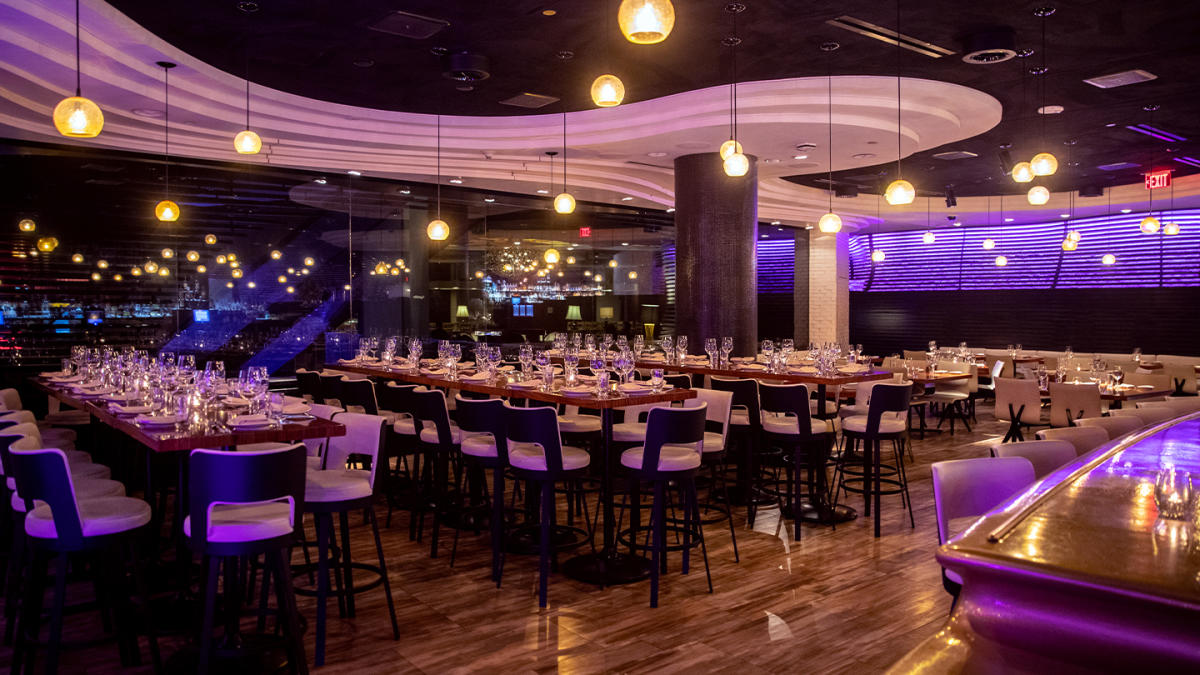 STK Steakhouse, located in the Cosmopolitan of Las Vegas, is a hip, lively restaurant and lounge perfect for any night out. The atmosphere is dark and ultramodern, with a large bar area featuring live music every night.
This steakhouse has some of the most delicious steaks in Las Vegas, cooked to perfection by their experienced chefs.
Their menu also features other classic dishes like seafood pasta, salads and sandwiches. In addition, they have an extensive wine list to pair perfectly with any entree or appetizer.
Le Cirque
Le Cirque at the Bellagio is no exception. Located in a stunning setting, the restaurant features an exquisite menu of French-inspired cuisine.
With exciting dishes crafted from only the freshest ingredients, it's easy to see why Le Cirque stands out as one of Las Vegas' best dining experiences.
Diners can expect an elegant atmosphere and friendly and attentive service from start to finish, from classic French dishes like beef bourguignon and escargot to more modern takes on classics like braised lamb shank with smoked bacon risotto.
The Capital Grille
The Capital Grille at Fashion Show Las Vegas is one of the best restaurants in Las Vegas. Located in the heart of the Strip, this upscale steakhouse has provided a unique dining experience for locals and tourists.
Their menu offers an impressive selection of dry-aged steaks, fresh seafood and award-winning wines. Their talented chefs prepare all dishes with a local touch,
ensuring an unforgettable culinary journey each time you dine here. In addition to its exquisite food, The Capital Grille also features an extensive wine list and a lively bar area, so whether you are looking for an intimate dinner.
Gordon Ramsay Steak
Gordon Ramsay Steak at Paris Las Vegas is one of the best restaurants in Las Vegas and a must-try for any visitor. Located on the Strip, this upscale steakhouse offers diners an unforgettable experience with its signature dishes and contemporary atmosphere.
Guests can indulge in delicious cuts of steak like filet mignon, ribeye cap, Porterhouse, or Dry Aged Tomahawk while taking in spectacular views of the Bellagio Fountains or the Eiffel Tower replica.
This celebrity chef's restaurant also serves up classic entrees worldwide, such as Dover sole meunière and beef Wellington and decadent desserts like Baked Alaska and salted caramel cake.
Joel Robuchon
Joel Robuchon, located in the MGM Grand, is a must-visit. This restaurant has earned its reputation as one of the top restaurants in the city and offers an unforgettable experience for locals and visitors alike.
Upon arrival, guests are welcomed into a grand lobby with high ceilings and classic French decor, setting the tone for a night full of delicious gourmet cuisine.
The menu features dishes from all over France, crafted with ingredients from around the world. traditional favourites like steak au poivre or crème brûlée, diners can also expect unique creations such as caviar-topped langoustine or foie gras with raspberry chutney.
Best Restaurants In Las Vegas
Spago
Mon Ami Gabi
Bouchon
Giada
Nobu
STK steakhouse
Le Cirque
The Capital Grille
Gordon Ramsay Steak
Joel Robuchon