Finally, spring. Moreover, after months of gray days and long nights, it is about time. However, where to go? Shake off those memories of winter and last bits of snow with one of our spring getaways.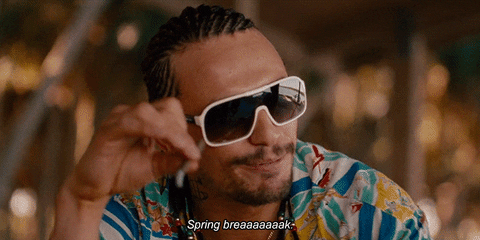 Giphy.com
We picked our top spring break destinations – with a couple of surprises thrown in – that have direct flights from major North American airports and are sure to change the color of those winter blues. Thaw out in the Caribbean or sunbathe among the stars in LA. If something off-beat is more your style, we have some beer-bong-optional picks as well. Spring is the perfect time to night-kayak through a bioluminescent bay in Puerto Rico, practice your sea lion roar in Baja California, or get hopped-up in Asheville.
1.Hawai'i, the Big Island
With year-round temperatures that hover between 70°F and 80°F (21°C and 27°C), there's never a bad time to head to the Big Island. But March marks the end of the high season, and budget travelers can usually find discounts on the largest island in the Hawaiian archipelago.
Through April, the island sees upticks in visitors hula-ing at major festivals like the Merrie Monarch Festival (a worthy trip in itself), but if you time it right you can score a spot on one of Hawaii's most dynamic islands. Trek into the snow-capped peaks (try Mauna Kea, Hawaii's tallest at nearly 13,800ft), wander through a verdant Kona coffee farm, and watch the Big Island get bigger at one of the longest-running volcanic eruptions anywhere in the world.
2. Whistler, British Columbia
For those who'd rather trade in the surfboard for skis on their spring break, head to the Coast Mountain resort town of Whistler, BC. By March the peak season has begun to die down, and the resorts offer up great deals to keep the winter momentum going.
Longer days, clear skies and a good snowpack make a spring in Whistler the perfect choice for skiers and snowboarders. For 360 degree views of this alpine Arcadia, take a ride in the PEAK 2 PEAK Gondola, a 4.4km feat of engineering that connects the peaks of Whistler and Blackcomb Mountains. At lower elevations, hike through conifer forests to spot the area's black bears as they emerge from hibernation.
Alexander Howard is Lonely Planet's Destination Editor for Western US and Canada. Follow him @alexmhoward.
3. Los Angeles, USA
Sun, sand and surf (three of the four spring break essential s's) can be found in abundance in Los Angeles. Famous beaches such as Santa Monica and Venice offer as much in the way of people-watching/partying as they do the chance to laze and sunbathe.
Other spots like Hermosa and Manhattan beaches are less known by tourists but are just as popular with locals – especially surfers. For a much quieter (read: hungover) day at the beach, head for Malibu and Belmont Shore.
4. Southern Baja California, Mexico
Away from the tourist resorts of Los Cabos, Baja California Sur has plenty of options for a more back-to-nature spring break experience. The weather is Goldilocks at this time of year, and the beautiful coastline offers the chance to swim with sea lions, kayak through turquoise waters, go whale watching (the season ends in March) and even help with turtle conservation, all of which will allow you to return home with ecological bragging rights rather than drinking stories a strange, how-did-I-get-that bruise.
Red Sustainable Travel (redtravelmexico.com) is based in Baja and has a variety of tours available.
Clifton Wilkinson is Lonely Planet's Destination Editor for California and Mexico. Follow him @Cliff_Wilkinson.
5. Tampa Bay, Florida
Florida basically invented the concept of spring break, but hotspots like Miami and the ultimate spring break capital, Panama City Beach, typically snare the spotlight. Which is a shame, because there are plenty of gems to discover in the state's often overlooked Southwest region. We recommend Tampa Bay, with its 35-plus miles of dune-dotted, pristine white beaches that promise traditional sun-and-sand relaxation.
Fort DeSoto Park, with 7 miles of sand and excellent trails and wildlife-spotting opportunities, is a standout. Meanwhile, Tampa and St. Petersburg beckon with seafood-rich, creative dining options, innovative craft brewers like bike-themed Cycle Brewing and surprising cultural offerings like St. Petersburg's Dali Museum.
6. Asheville, North Carolina
Southern charm, a thriving foodie scene and plenty of options for outdoor adventures – Asheville is the perfect spring break destination for travelers looking to compile a vacation itinerary that goes beyond the beach. (There's a reason it topped this year's 'Best in US' list, after all.) This small city in the Appalachian foothills is a haven for beer-lovers, with more craft breweries per capita than any other city in the US. The food scene ranges from Southern classics like Tupelo Honey to authentic Spanish tapas at local favorite Cúrate.
America's largest home, The Biltmore, also awaits nearby, with manicured grounds and gardens to explore on foot or by bike. Those looking for a spring break spent in the great outdoors won't be disappointed either: Asheville is a gateway to the Great Smoky Mountains National Park, with miles of trails for hiking, mountain biking or spotting wildlife like black bear, elk and red-bellied woodpeckers. And the peaceful French Broad river offers opportunities for kayaking and stand-up paddling.
Trisha Ping is Lonely Planet's Destination Editor for Eastern US. Follow her @editrish.
7. San Juan del Sur, Nicaragua
Nicaragua probably isn't quite on your spring break destination radar, but the laid-back atmosphere at San Juan del Sur, the country's premier surfing hub, will cast away any doubts. Take surf lessons and experience some of the area's world-class breaks, or hop around the neighboring coastline to visit the nearby string of glistening beaches: Playa Maderas, Playa Majagual, Playa El Coco, Playa Hermosa – the list goes on and on.
Party animals, don't despair: down an ice cold Toña or a stout rum cocktail at one of the town's lively bars, try craft beer at the local cervecería, or take a boozy catamaran cruise out into the bay. If you're really ready to throw down, join the Sunday Funday party, a legendary 'pool crawl' hosted by local hostels that has a reputation for getting wild (facebook.com/SundayFundayPoolCrawl).
8. Culebra & Vieques, Puerto Rico
You won't find any resort ragers here, and that's the beauty of it. These two sister islands off the east coast of Puerto Rico are the things that tropical dreams are made of: white sand, sparkling blue sea and slow living. Tiny Culebra is home to some of the most beautiful beaches in the Caribbean; relax in the sun on Playa Flamenco's brilliant arc of sand or dive in at Playa Carlos Rosario, one of Puerto Rico's best snorkeling sites.
Vieques is a bit larger at 21 miles in length, and its wildlife refuge is home to myriad beaches all beckoning for exploration: sip piña coladas at Sun Bay Balneario, lounge on expansive Playa La Chiva, and snorkel at the aptly named Playa Escondida ('Hidden Beach'). But Vieques' crown jewel is Bahía Mosquito, its bioluminescent bay. Venture out on a nighttime kayak trip to witness one of nature's best magic shows: the water glitters bright blue in the darkness.
Bailey Freeman is Lonely Planet's Destination Editor for Central America and the Caribbean. Follow her @The_Traveling_B.
9. Rio de Janeiro, Brazil
As one of South America's premier beach destinations, Rio de Janeirohas something to offer every type of spring breaker – stunning panoramas, fantastic food and a variety of outdoor adventures await to make yours a spring break to remember.
You'll catch some of Brazil's best rays on the sunny shores of the Cidade Maravilhosa (Marvelous City): pick a post on Ipanema Beach to see and be seen, or join the ranks of other tourists on Copacabana's hotel-lined oceanfront. Take the cable car up to Pão de Açúcar (Sugarloaf Mountain) or bask in the colossal shadow of Cristo Redentor atop Corcovado by day, and then hit the bar scene in Botafogo or party to the sounds of samba in the clubs of Lapa by night.
10. The Galapagos Islands, Ecuador
Love the idea of spending spring break on an island but loathe the partying masses? The Galápagos Islands are the answer for nature-loving, adventure-seeking travelers. This otherworldly archipelago lies 563 miles off the coast of Ecuador in the Pacific Ocean and is home to some of the earth's most rare and unique flora and fauna.
The human footprint on the Galápagos is minimal and its biodiversity is unmatched – endemic species such as giant tortoises, marine iguanas and blue-footed boobies roam the islands at ranges close enough for interaction with them. There are cruises, ecolodges and plenty of feel-good ways to get involved with conservation and social development initiatives around the islands. Programs like IOI Galapagos (ioi.ec) offer opportunities to earn class credits through university partnerships while giving back to the community. Go surfing, kayaking, biking or scuba diving near the town of Puerto Baquerizo Moreno on Isla San Cristóbal, or snorkel alongside stingrays, turtles and the occasional shark at Devil's Crown, one of the most outstanding marine sites of the Galápagos.
MaSovaida Morgan is Lonely Planet's Destination Editor for South America. Follow her @MaSovaida.
This article was originally published lonelyplanet.com